If the above-mentioned questions tickle your mind, then you are at the right place to figure out the future of retail operations. Read this blog to explore opportunities with digitization in the retail sector for balancing stability and dynamism.
The past two years have been turbulent and it has been challenging to predict and understand the key trends to differentiate between a sustainable business model and a fleeting endeavor in the retail industry. The choice made by retailers today is going to pivot their growth in the next five years.
The pandemic has aroused the crucial need for digital transformation and it's time to switch from insights to action. Today, leaders from all verticals, including retail, healthcare, logistics, education, banking and finance, real estate, PSUs, and Government sectors, are exploring disruptive technology and merging with AI-ML, Data Science, and Cloud experts to gain a competitive edge.
According to recentreports,the Global Digital Transformation Market in Retail is expected to grow at a CAGR of 18.2% from 2021 to 2026, reaching USD 388.51 billion.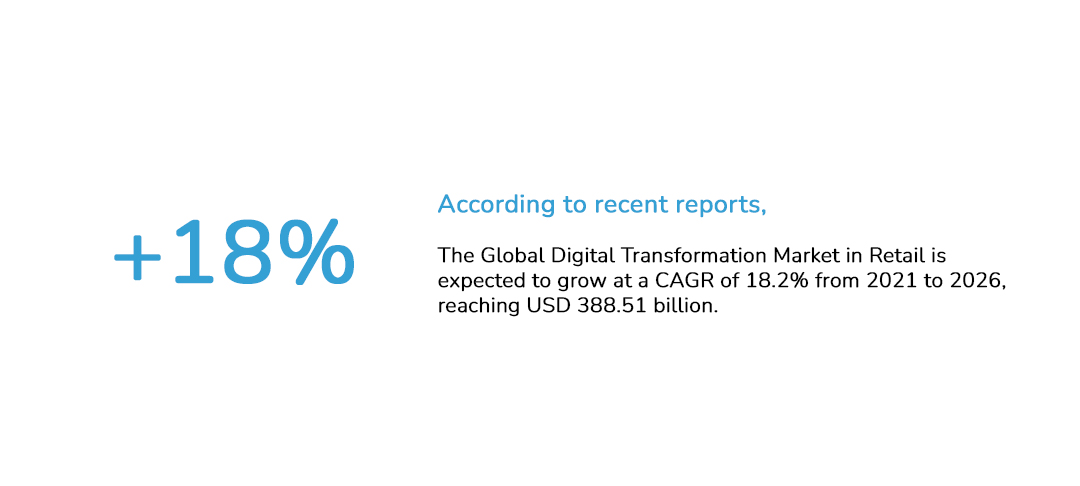 Organizations need an efficient and smooth work process for multiple processes like procurement, supply chain management, and effective spend management solutions.
Unsurprisingly, the impact of COVID -19 on the retail industry was overwhelming and turned out to be the biggest challenge for the retailers. This was followed by the consumers losing confidence in visiting the brick-and-mortar store, giving a big blow to the retail market. Apart from these two, many other challenges are a great concern to the retailers who are coping to stay afloat and ramp up their growth in the coming years.
A majority of incumbent retailers are still unprepared to handle the disruptions and drive their business toward devastation. It's time for them to move from the uncomfortable position and use AI-ML and Cloud-based automated platforms for accurate decision making.
In this blog, we discuss the other major concerns glooming the US retailers.
Retail Industry Challenges in 2022?
1.  Managing Data Siloes, Marketing, and Sales Together
The amount of data is increasing tremendously and we have many technologies that can help us in managing data, and marketing plans, respectively. But leaders in the Retail sector feel that there must be a go-to technology solution that not only handles the increasing amount of data but also converts it into useful information for effective decision-making.
Also, it will help in saving the time of the manpower and channel their efforts in the best direction. The data science approach leveraging AI and Cloud helps in creating a truly unified omnichannel service.
2.  Changing Approach to Partnerships
The acceleration of online retailing, with the strengthening of businesses like Amazon and Alibaba, has created a pressing need for traditional store-based retailing to shift to the Omnichannel model. McKinsey leadersPraveen Adhi,Eric Hazan,Sajal Kohli,andKelsey Robinson,envision that the future of retail in 2030lies with omnichannel shopping. According to Sajal Kohli, "A lot of the resource investment—both human capital and capital expenditure in dollars—needs to shift away from opening new brick-and-mortar stores and toward putting it into technology."  Advanced technologies, like AI, ML, and Cloud Computing, with strong Data Analytics, will transform and revolutionize retail-store operations, procurement, contract management, spend management, and supply chains.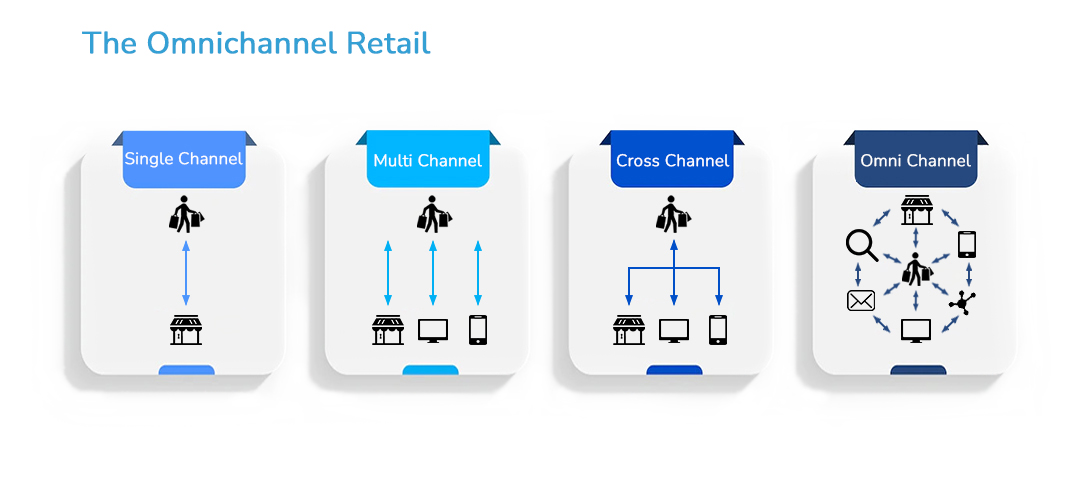 3. Strategic Approach for Automation
The traditional approach in the supply chain worked around generating RFPs for specific projects. The emerging approach, today allows retailers to shorten reaction times by engaging with strategic partners to deliver omnichannel capabilities. It allows them to automate which is most required and beneficial for their growth and service needs, with partner independence andmodularization.It's time for retailers to grab the opportunity and switch to agile systems with technology upgrades by choosing a platform that serves everything including planning, sourcing, contract execution, and supplier management.
4.  Supply Chain Optimization
The majority of retailers experienced serious deficiencies on multiple fronts in their supply chains. The margins reduced drastically with consumers drifting to online shopping. Also, there have been rising shipping costs and taxes. As a result, the retailers are keenly looking for platforms to solve common supply chain challenges like:
◉ Managing inventory during the peak season
◉ Improving inventory management accuracy
◉ Planning demand and product availability
◉ Visibility to inventory in transit, stores, or warehouse
◉ Integrating with a centralized system
◉ Outdated legacy systems
◉ Traditional Supply Chain Practices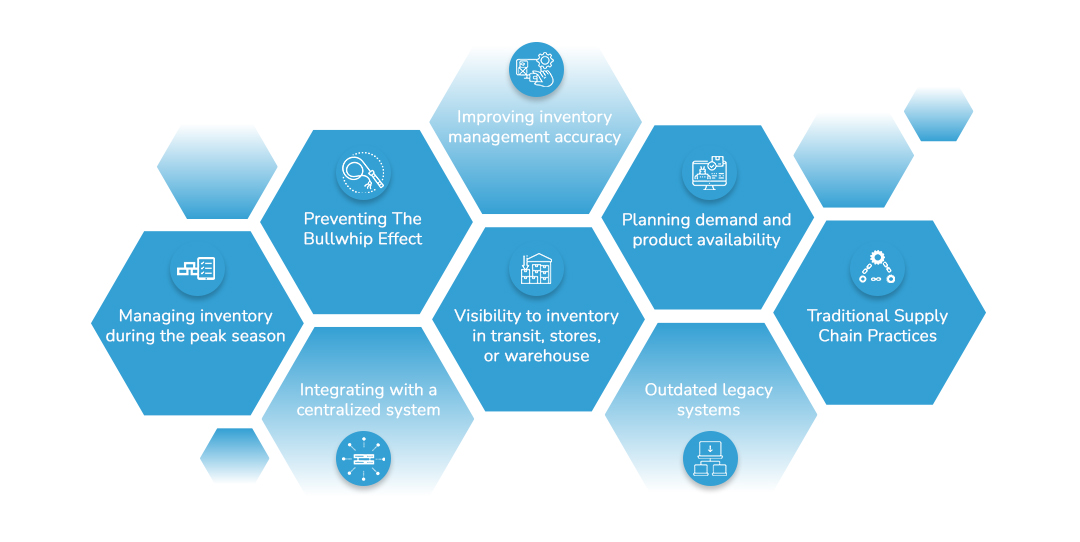 5.  Global Economic Factors and Taxes
The action of humans directly impacts the retail industry. Consumer behavior drives the retail market and it is one of the most unpredictable ones. Rising interest rates restrain the purchase power and inflation can lead to increased product pricing. An effective spend management software surely helps retailers to gain a competitive and pricing advantage. It is crucial to switch to advanced financial management in lean times to ensure work health and safety, maintain consumer confidence sharing and securing credible information, discounting, reducing rental overheads, and securely manage lease agreements.
Leaders in the Retail market must introduce more digital technology as a part of the core business, rather than simply focusing on using digital marketing in delivery platforms. Digital and technology must become central to the retail business to empower business for the next 5 years.
To Sum Up:
Retailers need to closely review and scrutinize critical points in the supply chain, procurement, and spend management systems. Digital transformation and advanced technological capabilities of AI, ML, Automation, and Data Analytics allow decision-makers to take measured action, powered by accurate numbers and figures. Industry experts at Raindrop Systems Inc. hold great expertise and vast experience in transforming your business challenges into sustainable and scalable growth opportunities. Raindrop offers effective procurement and spend management solutions to major retail brands, likeThe Container Store,Workwear Outfitters,Sephora,William Sonoma,FULLBEAUTY Brandsin the US.
If you want to ramp up your business growth and stay ahead of the curve, now is the time to take action and leverage end-to-end enterprise spend management solutions by Raindrop.